Royal Park Primary School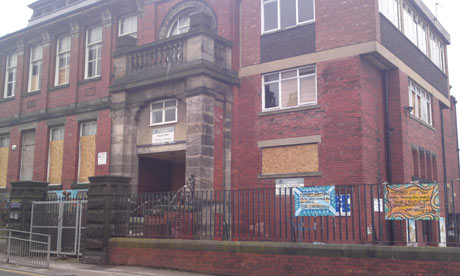 Royal Park Primary School in Hyde Park closed in 2004 and has stood empty since then. The building holds all the steriotypes of an abandoned building, including boarded up windows, rusty locks on the gates, and general deteriation of the building itself. This photo comes from a website highlighting the growing conerns about the £850,000 the council has paid over the last three years to maintain and sercure unwanted council properties prior to their sale:
http://www.guardian.co.uk/leeds/2011/jan/10/leeds-city-council-empty-buildings-cost
Chapel Allerton Hospital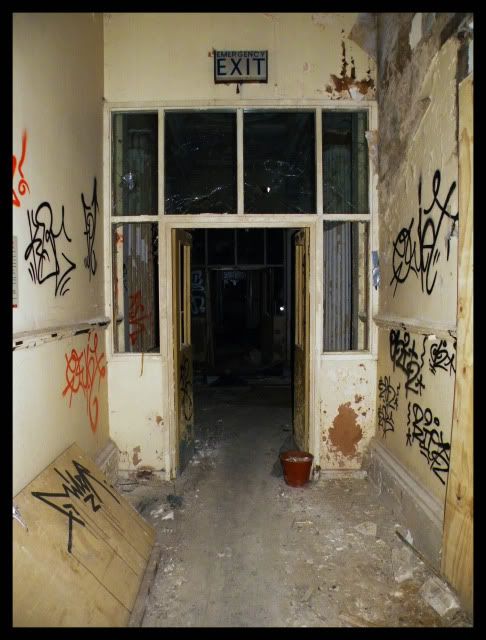 Though this building was just what we were looking for, after a little more research we discovered this building has since been demolished, and the hospital still exists in a modern replacement building.
J. Cowling & Sons, Morley
This old garage looks like its been derelict for some time. These photographs from both night and day highlight some of the extreme decay which has taken place over the years.
There is evidence that both human and animal residence, and this is an area which would be very interesting to research into, as it is hard to imagine the circumstances the people were in, to actually stay here, even for one night.
Leeds Int Pool
The photos we found on the internet are of the abandoned Leeds Internation Pool, however the signs of workmen being there show that it is not going under reconstruction. What is especially interesting is the various graffitti which has been down over the years. I especially like the broken windows and mold which is growning over the pools floor sides:
http://www.derelictplaces.co.uk/main/showthread.php?t=6203
Victoria & Hunslet Mills
This massive complex of mills along side the river Aire have been owned by various companys over the years. RH Bruce a tool making firm occupying part of the Victoria mills buildings being the last to leave in the early seventies, the site has been derelict ever since.
This abandonment over the past forty years is apparent in the decay of the sites peeling wall paper, and littered floors.
However the actual frame looks impressively solid considering the length of its abandonment, which makes one wonder why it has not been used since then.
These old employee time cards are especially interesing, as though the date of them is unreadable, it is obvious they date back to the the time the building was last occupated (1970s)